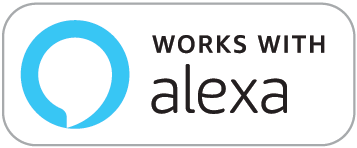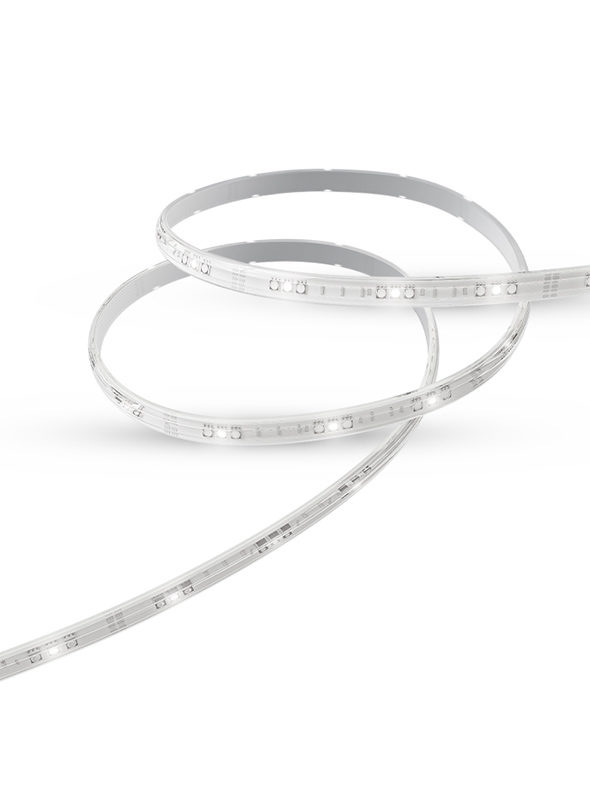 WI-FI SMART LED STRIP (5M)
16 million possibilties
Select from 16 mln different color combinations with just a tap in the app

Set your scene
Set-up scenes and create environments matching your mood

Set-up your schedule
Create a schedule, set-up a timer and build quick Tap & Go commands

Group-up
Group and control all melink lighting products

Shop
The WI-FI SMART LED STRIP is a SMART HOME product, which can be remotely controlled using the intuitive MELINK application.  The LED strip allows discreet lighting of such spaces as shelves, recesses, wardrobes, kitchen countertops and bathroom mirrors.
The LED strip has alternating RGB diodes and CCT diodes (a total of 300 diodes – 100 RGB and 200 CCT) in SMD 5050 technology. This allows the mixing of 3 basic colors (R + G + B), as well as the possibility of changing and mixing the white color temperature range (in the range of 2200K to 6500K). Due to the high light output (1700 lumens) and light emission along the entire length, the strip provides sufficient lighting for both functional and decorative applications.
Thanks to the flexible structure, the tape can take any shape, and the self-adhesive strip allows it to be conveniently installed on a hard surface. The strip can be cut at specific points to the expected length. Therefore, it does not matter whether the strip will illuminate the stairs, corridor, wall around the TV set or a bar.
The lighting strip generates up to 16 million colors that the user can configure through the application via the control panel or via special "scenes" for specific times of the day, occasions, or activities. Colors are available in various intensities, including white light in different temperatures – ranging from cold, through neutral, to warm.
Group devices to manage multiple lighting products (and more) with one button or integrate them through MELINK "Tap & Go" commands, which allow to run pre-defined actions of different types devices with a tap of a button. Additionally, the schedule function will allow you to automatically turn on the lighting at certain times, e.g. after returning from work or in the evening.
The free MELINK app is available for Android and iOS. It is easy to use and enables the user to operate all SMART HOME MELINK devices conveniently and remotely from anywhere in the world. The device is compatible with Amazon Alexa, Google Home and Apple SIRI intelligent voice assistant systems.



Full specification
Voltage: 100-240V (EU AC ADAPTOR with 1.5m cable)
Wireless IEEE standards: Wi-Fi 2.4GHz (802.11 b/g/n)
Security mechanism: WPA/WPA2/AES128/TLS1.2
Waterproof: IP20
Lumens: 1700 lm
LED TYPE: SMD 5050 (300 diodes – 100RGB and 20CCT)
Temperature: Regulated 2200-6500K
Color: RBG+CCT
Tape Length: 5 meters
Power Input: 12V
Compatible with the MELINK application
Compatible with Amazon Alexa, Google Assistant and Apple SIRI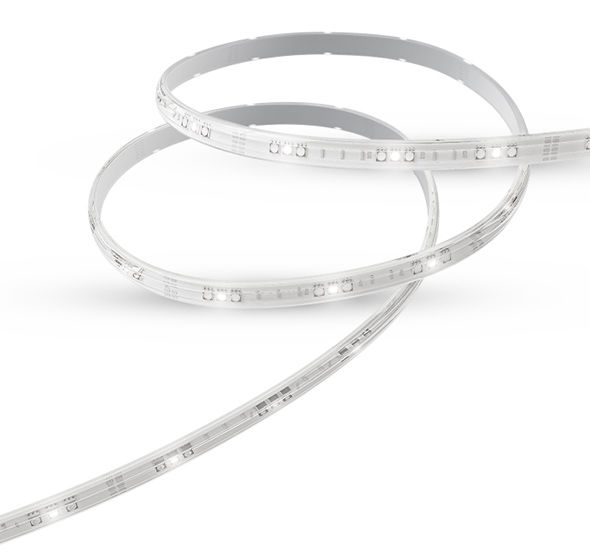 16 million possibilties
Select from 16 mln dierent color combinations with just a tap in the app

Set your scene
Set-up scenes and create environments matching your mood

Set-up your schedule
Create a schedule, set-up a timer and build quick Tap & Go commands

Group-up
Group and control all melink lighting products

Home Safety
Increase security at home with melink

Global Control
Remote control at anytime and anywhere in the world