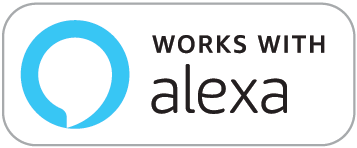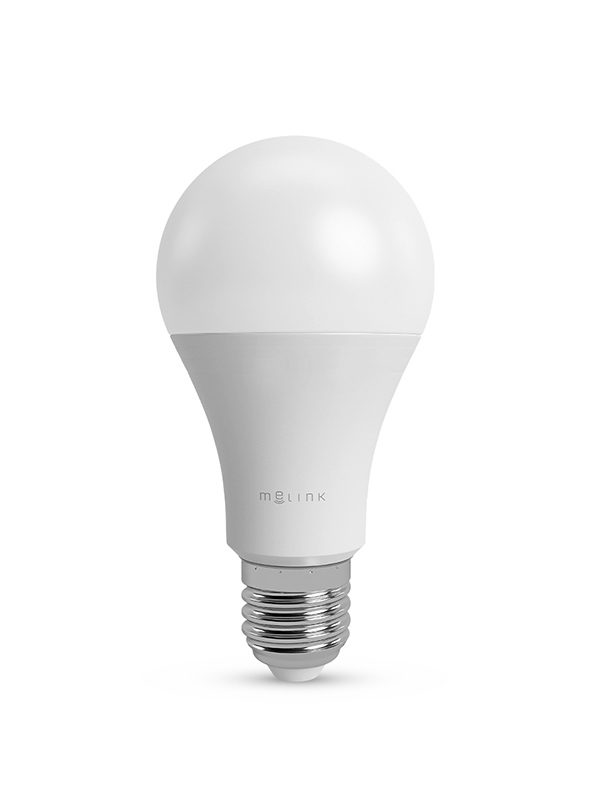 9W WI-FI SMART BULB
16 million possibilties
Select from 16 mln different color combinations with just a tap in the app

Set your scene
Set-up scenes and create environments matching your mood

Set-up your schedule
Create a schedule, set-up a timer and build quick Tap & Go commands

Group-up
Group and control all melink lighting products

Shop
The 9W WI-FI SMART BULB is a SMART HOME product, which can be remotely controlled using the intuitive MELINK application.  The configuration of multiple devices in this category enables comprehensive smart lighting management throughout the home.
The bulb with a E27 fixture has a power of 9 W LED, which corresponds to the standard of 60W in terms of traditional buls. The RGB + CCT LEDs used allow the mixing of 3 basic colors (R + G + B), as well as changing the white temperature range (in the range of 2200K to 6500K). The high light output of 806 lumens guarantees effective lighting.
The bulb generates up to 16 million colors that the user can configure through the application via the control panel or via special "scenes" for specific times of the day, occasions, or activities. Colors are available in various intensities, including white light in different temperatures – ranging from cold, through neutral, to warm.
Group devices to manage multiple lighting products (and more) with one button or integrate them through MELINK "Tap & Go" commands, which allow to run pre-defined actions of different types devices with a tap of a button. Additionally, the schedule function will allow you to automatically turn on the lighting at certain times, e.g. after returning from work or in the evening.
The free MELINK app is available for Android and iOS. It is easy to use and enables the user to operate all SMART HOME MELINK devices conveniently and remotely from anywhere in the world. The device is compatible with Amazon Alexa, Google Home and Apple SIRI intelligent voice assistant systems.



Full specification
Voltage: 220-240V
Wireless IEEE standards: Wi-Fi 2.4GHz (802.11 b/g/n)
Security mechanism: WPA/WPA2/AES128/TLS1.2
Interface: E27
Power: 9W
Bulb type: A60
Life-time: 25 000h
Temperature: Regulated 2200-6500K
Color: RGB+CCT
Lumens: 806 lm
Compatible with the MELINK application
Compatible with Amazon Alexa, Google Assistant and Apple SIRI
BRANDING: MELINK logo on the housing; custom MELINK user interface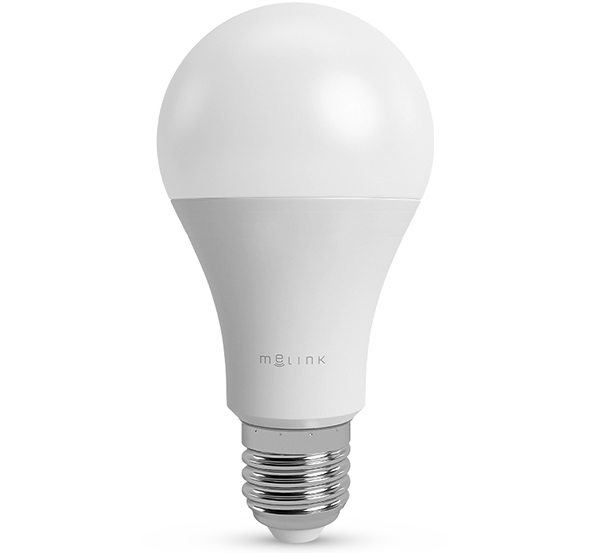 16 million possibilties
Select from 16 mln different color combinations with just a tap in the app

Set your scene
Set-up scenes and create environments matching your mood

Set-up your schedule
Create a schedule, set-up a timer and build quick Tap & Go commands

Group-up
Group and control all melink lighting products

Home Safety
Increase security at home with melink

Global Control
Remote control at anytime and anywhere in the world